Clinton Beck's 10 tips to investing in gold & silver bullion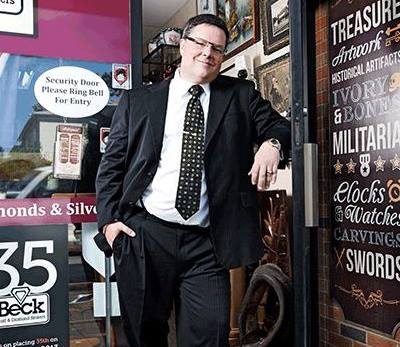 1. When the world is coming unglued, gold and silver are solid.
Gold and Silver bullion, which sell in the millions weekly.  These are sold in different forms like the Canadian Maple Leaf and are easily bought and sold through precious metals dealers.
Some people will recommend buying paper versions of gold but Beck prefers the real gold or silver bullion. For example, the Maple Leaf is 24-karat gold, mimicking gold's spot price and joining in its rise.
2. The downside of gold & silver bullion
Before plunking down hard cash, know that investing in gold and silver can have its downside. Prices fluctuate wildly, gold and silver bullion aren't meant for trading, most experts recommend holding for a minimum of three years.
3. Dealers typically don't take credit cards for gold purchases, and if they do you have a problem.
Any reputable gold and silver bullion dealer cannot take anything other than cash.  If they take credit cards and debit, you are paying way too much for your bullion as the percentages they lose will be in the sale price.
4. Make sure to ask the dealers policy on buying back the gold and silver bullion.
Selling coins also means laboriously shipping them back to dealers by packing them in coin protectors wrapped in bubble wrap. To track the package, send it via registered mail or Express Mail, or use a service such as FedEx or UPS. The coins should also be insured for their full value.
Here are five tips for buying and selling gold coins.
5. Make sure your bullion is recognized in Canada.
The Canadian Maple Leaf and American Eagle gold bullion coins are the easiest to buy and sell in North America. The 9999 Canadian Maple Leaf is the most recognized bullion on the planet.  Every country recognizes it as the very best.   The American Eagle's gold content and purity is guaranteed by the U.S. Mint.  The new Gold Buffalo is the US version of the Maple Leaf and should be recognized everywhere as well.
Widely used gold coins also are easier to sell, unlike the South African Krugerrand and the Austrian Vienna Philharmonic gold coins. These coins are mostly bought and sold outside of North America.
6. Store your gold and silver bullion in a safe place.
If you buy gold and silver bullion, store it in a safety deposit box or a home safe rather than with a dealer. Physical possession is best to avoid scams and remember, the whole reason you are investing in precious metals is for security against disaster.  You lose allot of the security if you don't have it in your possession.  It goes without saying that you want to keep it a secret.
7. Always compare prices.
Compare dealer prices. This is the most important thing you can do as an investor.  The Canadian Mint as well as most mints don't sell bullion directly to investors. Comparing prices among dealers is easy, give them a call and compare,  all bullion sells at a premium above gold's spot price, or its delivery price as a commodity. You can find the spot price on precious metals exchange sites such as Monex.com or Kitco.com.
Paying more than you need to is simply foolish.  Aim for the lowest price and avoid buying gold on eBay  or online because you can get caught in a bidding war.  Also the delivery and insurance fees will add further percentages to your purchase.  If you buy bullion from someone far away, there is cost of insurance and shipping.  Shop local, pay cash and save big.  Beck gold and silver brokers offer the best rates in Alberta.
8. Buy 1 ounce denominations.
Buy 1-ounce bullion. There have been fake 10 ounce gold bars surfacing around the world.  Currently there are 1 ounce silver fakes in the marketplace.  These are easy to pick up and spot by a professional bullion expert like Beck Gold & Silver Brokers.  Make sure your dealer guarantee's all bullion to be genuine.
9. Be careful with rare coins.
If you are not a coin aficionado, avoid rare coins. Rare coins require more diligence and expertise when buying them. Two coins may look alike but have completely different grades. This difference can add up to thousands of dollars difference in price. You should hire a professional grading service and get a certificate of authenticity when buying rare coins.
These professional grading services judge a coin's physical condition, assigning it a grade.  Buying rare coins is more like an art.
10. All that glitters is not gold or silver.
As the old saying goes, all that glitters isn't gold. There are many scams out there. Some red flags include dealers offering free storage or delayed delivery.  If it is too good to be true, it always is.  Use your gut instincts, find a dealer who is with the Better Business Bureau.  Look at their reputation.  Check references and testimonials.  Bullion investing is very straight forward.  Ask yourself does this dealer make sense?   Never buy from telemarketers because they charge substantially higher commissions.  Be very careful when buying from people online.  There have been many robberies.  Always meet at a safe well populated location.  There are fake bars in the marketplace.  Make sure you are confident that what you are purchasing is actually real.  Bring a real coin with you to compare with the ones your are purchasing.
Clinton Beck is the President & Founder of Beck Gold and Silver Bullion.  He has over 25 years experience as a bullion dealer.